Taipei, Taiwan – November 19, 2014
– Cincoze is proud to introduce the DS-1000 series and DE-1000 series fanless computing systems are EN50155 certified. These fanless box PCs offer clients intelligent, high-performance operating platforms that can precisely manage in-train surveillance, media broadcasting and passenger information systems, all of which are applications with high demands for accuracy, dependability, and durability.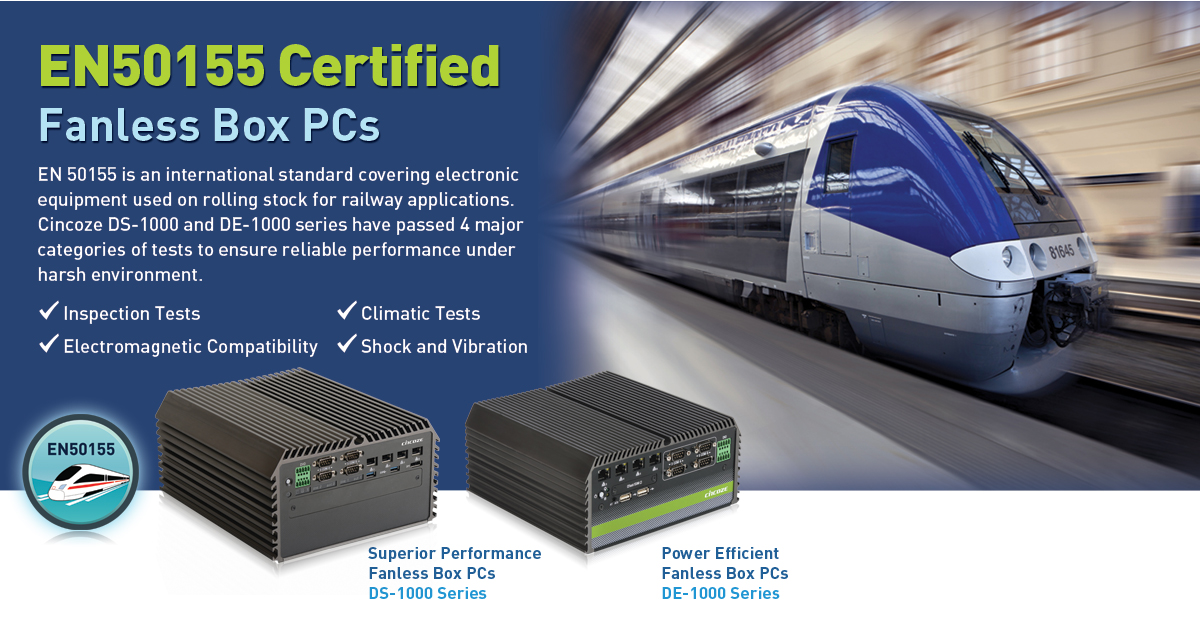 DS-1000 series
is a superior performance fanless computer, integrated with 4th generation Intel® Core™ i3 / i5 / i7 LGA1150 socket type processor and Intel® Q87 express chipset. The LGA1150 supported socket allows the flexible choice of compatible processors on demand. In comparison with the mobile platform, DS-1000 series provides a better performance at a lower price; itoffers high performance, multi-tasking and ultimate functionality, with I/O and expansion capabilities for the most critical applications.

DE-1000 series
is a power efficient fanless computer, integrated with onboard Intel® Atom™ E3845 Quad Core 1.91GHz processor. DE-1000 series features efficient processing power and high functionality. The systems are designed with rich I/O, high flexibility and easy expansion capabilities which are ideal for diverse industrial applications.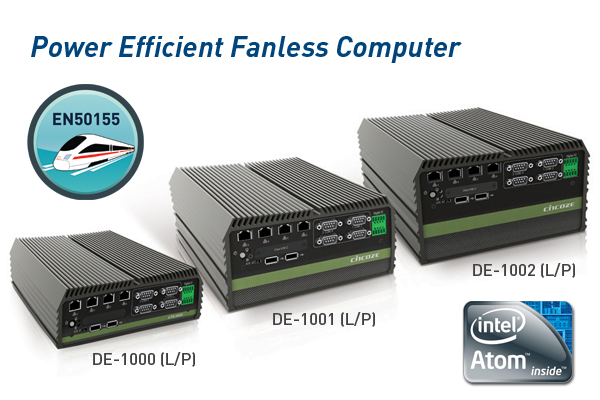 Certified with the EN50155, DS-1000 series and DE-1000 series fanless computers deliver proven, rugged, feature-rich, and application-ready functionalities that make the required applications easy to apply and ready to run. Its rugged design ensures stable operation in harsh environments and is ideal for any rolling stock application such as passenger information systems, video streaming and storage servers, security surveillance and train management systems.
DS-1000 Series Main Features
Support 4th Gen. Intel® Core™ i3/i5/i7 Desktop Processor
Wide Operating Temperature ­(Supports up to -10°C to 60°C)
Triple Independent Display
Multi LAN / PoE Version Available
Power over Serial / DIO and Power Ignition Functionalities
Various Expansion Interface: PCI / PCIe / Mini-PCIe Expansion Available
Compliant with EN50155 for Rail Transportation Applications
DE-1000 Series Main Features
Onboard Intel® Atom™ Processor (Bay Trail Platform)
Wide Operating Temperature (Supports up to -20˚C to 70˚C)
Multi-LAN / PoE Version Available
Power over Serial / DIO and Power Ignition Functionalities
Various Expansion Interface: PCI / PCIe / Multi-PCIe Expansion Available
Compliant with EN50155 for Rail Transportation Applications