Press Release
Taipei, Taiwan – September 30, 2016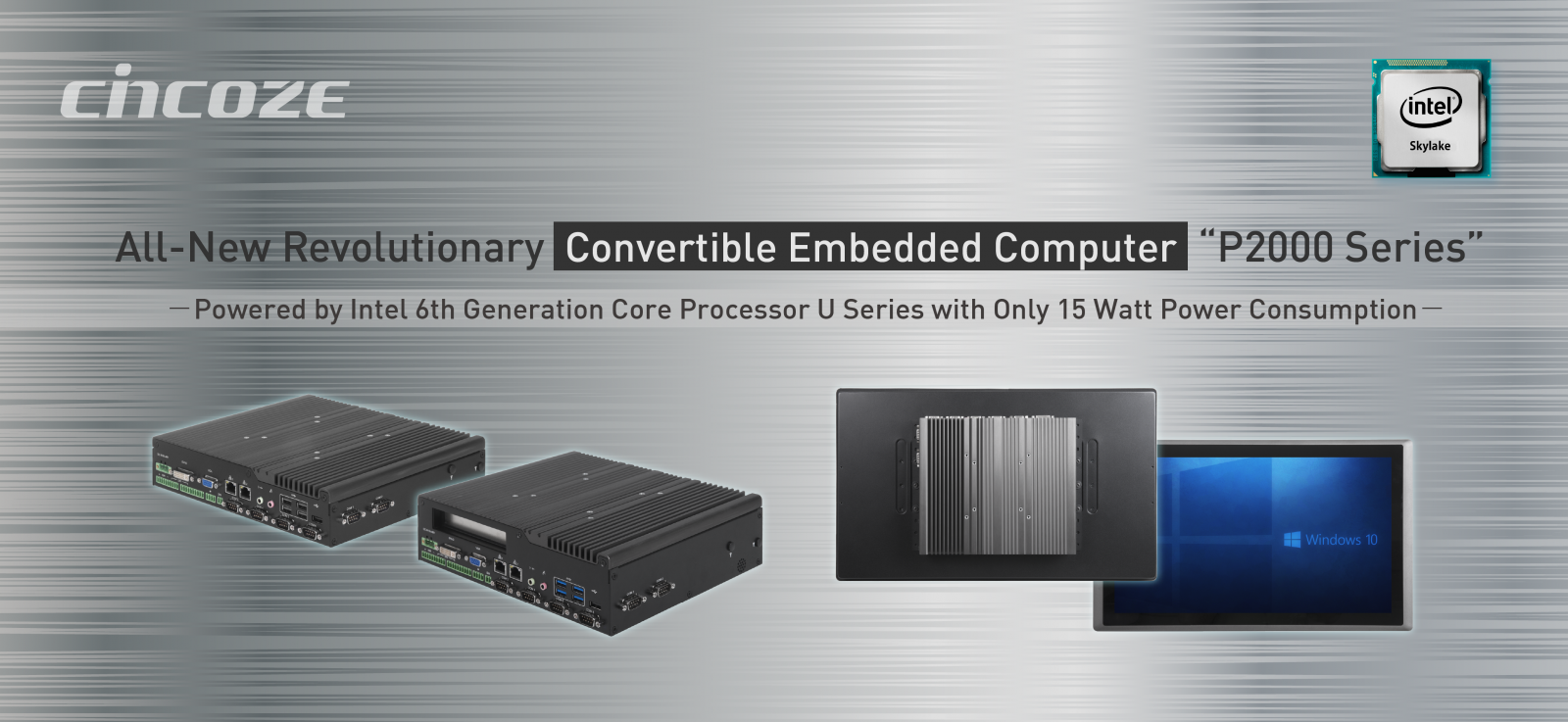 Cincoze is Unveiling All-New Revolutionary
Convertible Embedded Computer "P2000 Series"Today!
-
Powered by Intel 6th Generation Core Processor U Series with Only 15 Watt Power Consumption.
Cincoze is unveiling all-new Convertible Embedded Computer "P2000 Series" today, it is so exciting to offer this versatile system to the global market for the first time. The P2000 Series is designed to be positioned as "One Computer, Two Appliances", it can be used as both a "Slim type embedded computer" and as a "Panel PC." A modern fully-automatic machine requires an embedded computer for data processing and a panel PC for HMI operation, the P2000 Series provides the seamless integration of a complete system with the same hardware for the ease of maintenance and device management.
The P2000 Series is powered by the 6
th
generation (Skylake) Intel Core processor U Series, offering more computing power, faster data processing and a 40% boost to graphics performance over previous processor generations, while consuming only 15W of power. The system features integrated Intel HD 520 graphics for high definition image and video reproduction, as well as 32 GB of DDR4 memory, which enables twice the data bandwidth of DDR3 RAM. Dual 2.5" SATA bays (one internal, one externally accessible) provide ample data storage and built-in RAID capabilities.
The P2000 Series has native I/O includes VGA and DVI, offering dual display support (triple display support when configured as a panel PC), dual GbE LAN ports, 5 USB, 6 RS-232/422/485 COM ports and 16 isolated DIO. The P2000 Series can be expanded further by utilizing 2 full-size Mini PCIe slots and/or additional PCI/PCIe slot. With Cincoze Control Function Modules (CFM) the P2000 Series also supports PoE and advanced ignition sensing for mobile and in-vehicle installations.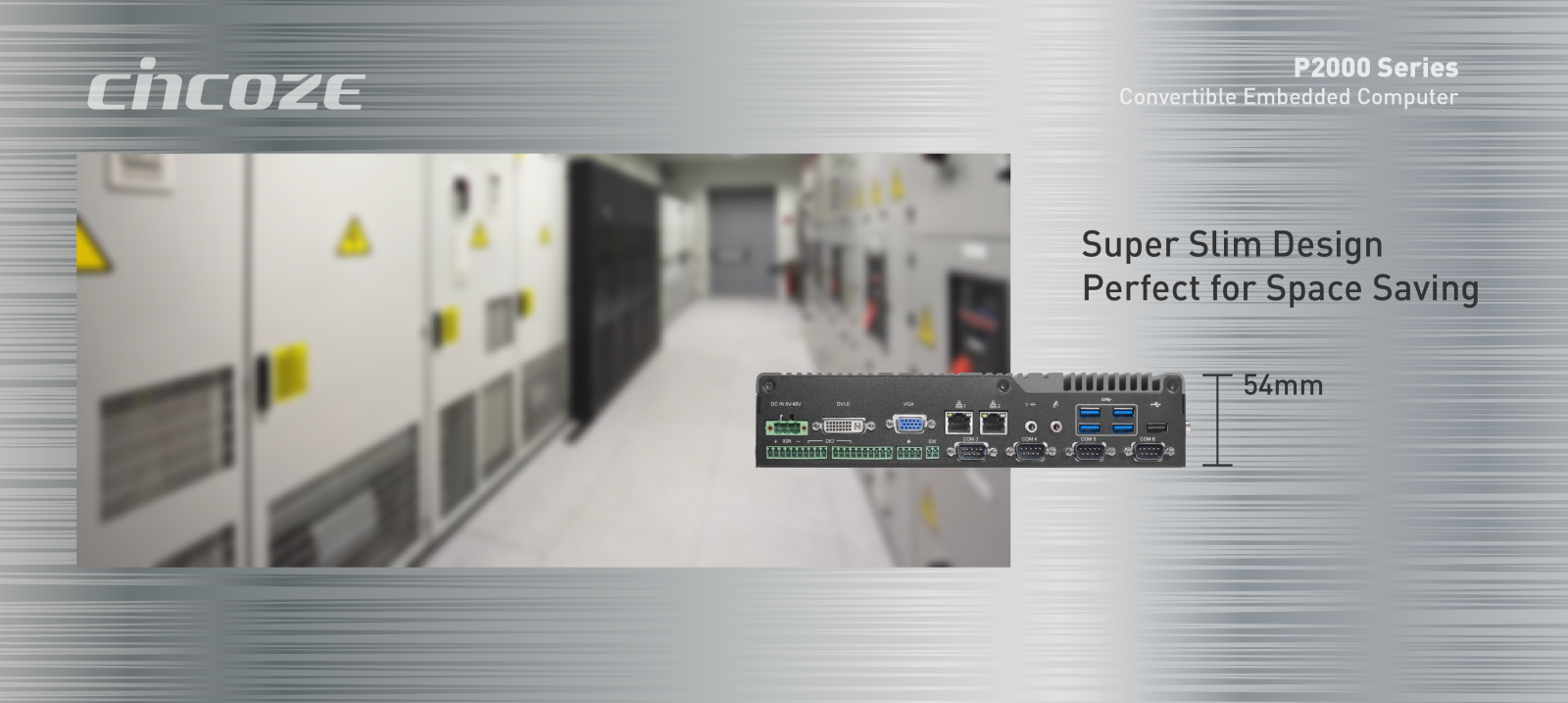 The P2000 Series is engineered to withstand extreme computing environments. Completely fanless, ventless and jumperless construction leaves no ingress points for contaminants and no connections to loosen or shake free, even in vibration-prone installations. The P2000 Series is rated against up to 5 Grms of vibration and to resist damage from a 50 Grms impact. It is rated for reliable operation in temperatures as cold as -25°C and as hot as 70°, and moreover it accepts input voltages ranging from 9~48 volts. It combines innovative modularity, industrial I/O and hardware ruggedization to provide reliable performance in any environment. With its slim factor and changeable mount kits, the P2000 Series is excellently applicable for control cabinet installation and it can be set up anywhere.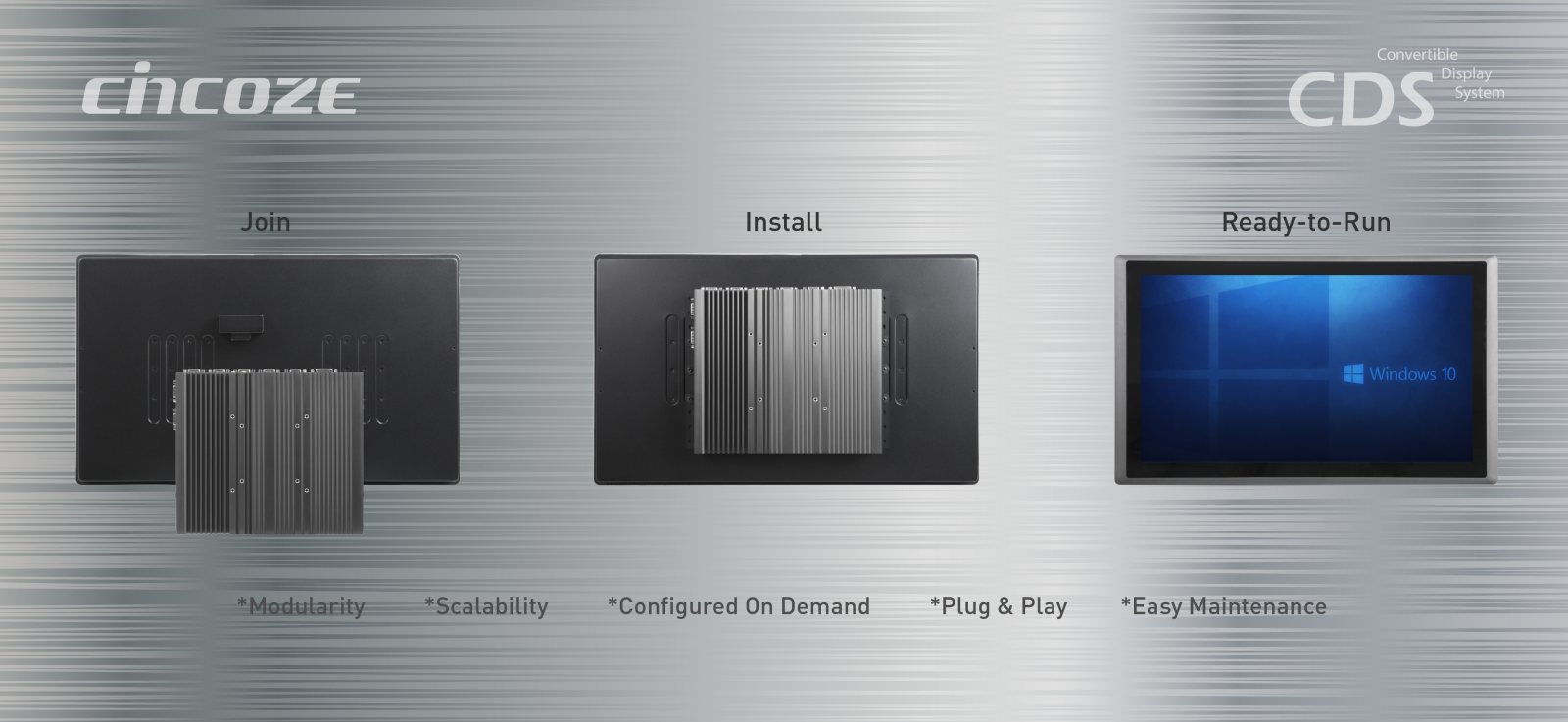 The P2000 Series can be assembled with the patented Cincoze Convertible Display System (CDS Technology) to any Cincoze touchscreen display. Compatible screen sizes range from 12-inch all the way up to the company's new 21.5-inch widescreen model, offers resistive 5-wire or projected capacitive touch screen with the resolution up to 1920x1080. The P2000 Series gives Panel PC users the power, flexibility and expandability that today's factory and machine automation applications demand, in a sleek, all-in-one system
Product Highlights
CDS Technology
CDS (Convertible Display System) is patented technology from Cincoze, which is a revolutionary panel PC solution that offers features of modular design, configured on demand, scalability, transformability and Plug & Play.
CFM Technology
CFM (Control Function Module) is a technology created by Cincoze, it enables function enhancement by adding specific function daughter board. CFM Technology allows the P2000 Series to support PoE and IGN function for various applications.
Instant Reboot
The P2000 Series supports 0.2-second instant reboot for critical applications.
SuperCap
SuperCap is an extremely high volume capacitor, which can be recharged automatically when power is connected (without power Min. 50 days /Max. 70 days), you never need to replace CMOS battery, and it makes P2000 Series a truly reliable and maintenance-free system.
About Cincoze
Cincoze is a professional manufacturer providing industrial computing system solution. We design, manufacture, and market highly engineered and innovative products to meet the demanding industrial application markets.
Cincoze Co., Ltd.
7F., No.4, Aly.1, Ln.235, Baociao Rd, Sindian Dist., New Taipei City 23145, Taiwan
Tel: +886-2-2918-8055 Fax: +886-2-2918-8066
About This E-Newsletter
This e-newsletter is published by Marketing Dept. of Cincoze Co., Ltd.
For further information please contact your sales representative or visit our website.
Media Contact: info@cincoze.com
Copyright 2016 Cincoze Co., Ltd. All rights reserved.